Tanning Salon in Tucson
Beach Bunnie Tanning in Tucson, Arizona is dedicated to providing you with quality and excellence with every visit. Our strive for excellence leads us to offer only the finest of tanning beds, tanning booths, sunless solutions, and lotions available in the industry. Beach Bunnie Tanning believes everyone should always look and feel their best!
Beach Bunnie Tanning salon is open every day of the week, and, with more than fourteen beds an appointment is not necessary. Known for having a spotless tanning salon, we have a separate, full time, cleaning staff.
At Beach Bunnie Tanning our staff is certified with the National Tanning Training Institute. This makes all of our Staff members experts at evaluating your skin type and determining your tanning goals. We are here to help customize a tanning program that is perfect for you!
Spray Tanning Services
Airbrush Spray Tanning
Our master certified airbrush technicians deliver the most natural sun kissed bronze in seconds. All organic solutions available upon request. Expect this flawless spray tan to last up to 12 days!!
Mystic Tan
Beach Bunnie Tanning's Mystic Spray Tan will give you a rich golden tan in just 60 seconds and it is 100% UV-Free.  With just the touch of a button, you will be misted with the highest quality self-tanning solution ever developed.  We help you choose a color suited to your skin tone for the most natural results.  With this booth expect your amazing color to last up to 10 days!!
UV Tanning Beds & Booth Level's
LEVEL 1
STAND-UP – 11 MIN MAX
This high intensity booth is great for individuals who tan easily and are looking for a touch up to their existing color. Base tan takes approximately 3 sessions.
Best Results: Found in individuals with a Medium to Dark Natural skin tone.
LEVEL 2
STAND-UP – 10 MIN MAX
This booth will deliver a gorgeous caramel honey glow. Base tan takes approximately 2-3 sessions.
Best Results: Found in individuals with a Medium Natural skin tone.
LEVEL 3
STAND-UP & LAY-DOWN – 8 MIN MAX or 12 MIN MAX
Most Popular! This is perfect for those looking to achieve that natural Brazilian Bronze Tan. This booth is not only known for its gorgeous color it provides, but for having less than 2% reddening rays. That means 98% Bronzing rays keeping you tan and healthy!
Base tan take approximately 2 sessions.
Best Results: Found in individuals with Fair, and Medium skin tones.
LEVEL 4
STAND-UP – 15 MIN MAX
Perfect for clients that need an extra boost of color. This high pressure booth tans the second layer of your skin, deepening your color and lengthening the life of your tan. Extends your tan for two weeks or longer.
Base tan must already exist to see additional color.
Best Results: Fair, Medium, and Dark skin tones.
Tanning Equipment
At Beach Bunnie Tanning we provide the finest tanning equipment to help you keep your tan all year long. Our tanning equipment includes:
12 Luxury Tanning Beds
2 Custom Airbrush Spray Tan Rooms
2 Mystic Tan MyMyst Machines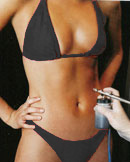 Muscle Contouring Services
Muscle Contouring is for individuals who want the appearance of tone muscles. Our technicians utilize the finest airbrush technology to deliver the appearance of abs, tone legs, cleavage and even a lifted bottom!
Ideal for going to the beach, pool parties, beauty pageants, body building competitions, and much more.
You do not have to be tone already to see contouring results.

Spray Tanning  & UV Achievements

MASTER CERTIFIED AIRBRUSH SPRAY TAN TECHNICIANS
NORVELL UNIVERSITY

TUCSON'S PRESTIGIOUS COLOR AWARD
NATURAL BRONZE AWARD

NTTI
CERTIFIED & TRAINED TO OPERATE UV AND SUNLESS TANNING EQUIPMENT.